We play our own twisted brand of rocknroll and we don't take any prisoners. Hold on to your hats.
"Awesome alt punk" Vive Le Rock.
---
BONES PARK RIDER are: Dave Roberts (Drums), David Wilkes (Guitar + Vocals), Clive Hoey (Bass), Andy Walker (Vocals).
---
BONES PARK RIDER are widely regarded as one of the most exciting and proficient bands to emerge from Sheffield's thriving underground music scene. Having initially set out to encapsulate the vibrancy and immediacy of '78-ish era alt guitar bands, a myriad of influences and original thinking has set them apart.
Known for their fiercely energetic stage show and intelligent, skin-tight, textured songs, the seasoned four-piece conjure a rare and varied brand of alternative, high-octane rock n roll. Correspondents say they are a 'supreme power-punk force' with some of the best lyrics around today.
---
The story so far: After meeting down at the front of the final Cardiacs gig in Sheffield in 2007, three survivors of the 1980's/90's Sheffield alternative scene decided to join forces and take up arms once more. Influenced by the explosive energy of Pub Rock, the pounding rhythms of the Post-Punk alternative scene, the infectious melody of New Wave and raw aggression of classic 77/78 Punk, they recruited a vocalist and commenced gigging with the likes of Spear of Destiny, UK Subs, 999 and many others releasing their self-published debut EP "Ne're do Wells" and album "Two Degrees of Separation" on Hepcat Records.
In 2012, following the departure of their bassist (Steve Hulme), ex-Psycho Surgeons bassist Clive Hoey joined and a second EP was released on Record Store Day in 2013 called "The Girl in the Record Shop" which immediately sold out and more gigs ensued with the likes of Members, Vice Squad, The Beat, Chelsea, Anti Pasti and Duncan Reid.
When their original singer (Thom James) retired in 2016, vocalist Micky Bones stepped up to the microphone and within 4 weeks embarked on a mini-tour. In 2017 the band released their second album "There but for the Grace of God" containing ten twisted tales of misfortune. Reviews have been universally outstanding praising the band's variety, depth and accomplishment with Viva Le Rock magazine giving it 9/10.
The band springboard into 2018 with gigs with the likes of Dead Boys, Anti-Nowhere League and the Lurkers. Mid-year brought an unexpected vacancy in the centre stage, however once again they switched vocalists without a break in stride (enjoying a well-received spell as a 3-piece in the interim). With vocal powerhouse Andy Walker now in place full time, the band are working hard towards their next studio release.
---
Comments and reviews for 'There But For The Grace Of God' by BONES PARK RIDER: "Awesome alt-punk... 9/10" Vive Le Rock." "A huge dose of hooks and melody" Punk Online. "A great album and some of the best lyrics in punk today" Arturo Bassick, The Lurkers / 999. "One of the most accomplished and enjoyable albums that I've been lucky enough to encounter in recent years." Alvin Gibbs, UK Subs. "These melodies instantly lodge in the mind while the vocals pack a considerable punch... 10 excellent and varied tracks" The Punkmonger.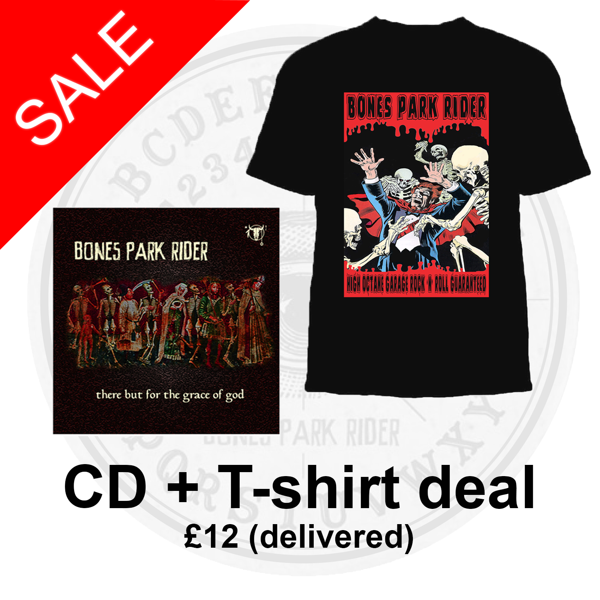 SPECIAL OFFER: CD + T-shirt
$16.78
Nothing Left To Talk About