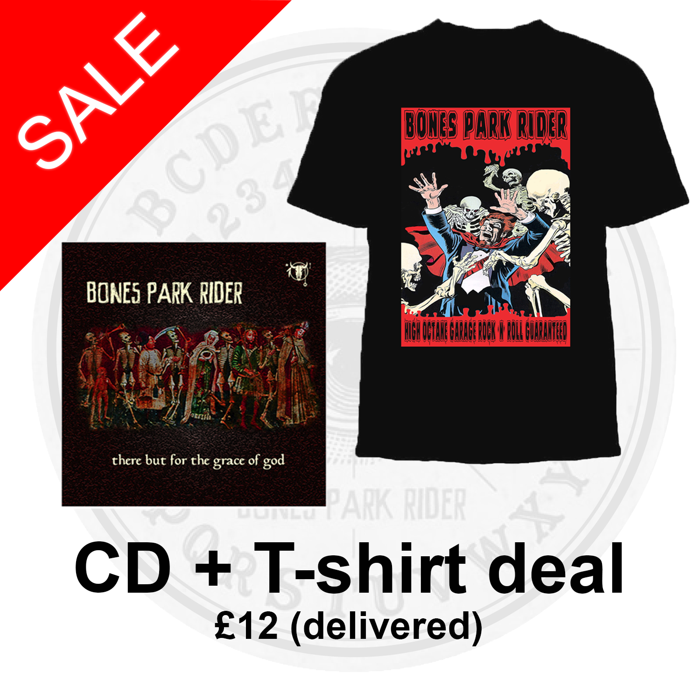 SPECIAL OFFER: CD + T-shirt
BONES PARK RIDER: Album (CD) + T Shirt special offer
CD and T-SHIRT SPECIAL OFFER
Price includes postage to UK addresses*.
In this special offer you get a super-cool BONES PARK RIDER 'skeletons attack' T-shirt (various sizes available) PLUS the CD of our widely-praised recent album THERE BUT FOR THE GRACE OF GOD.
---
T-shirt: Large colour print on black T-shirt (choose your size). If you don't see your size here, please get in touch.
CD: This is our "first edition" Bones Park Rider CD "There But For The Grace Of God": the complete 10-song album (the CD includes 8-page full-colour insert booklet with lyrics).
Both items are also available separately in our store.
---
Reviews and comments about this album:
"A supreme power-punk force... 9/10" Vive Le Rock.
"A huge dose of hooks and melody" Punk Online.
"A great album and some of the best lyrics in punk today" Arturo Bassick, The Lurkers / 999.
"These melodies instantly lodge in the mind while the vocals pack a considerable punch...10 excellent and varied tracks" The Punkmonger
"Without question THERE BUT FOR THE GRACE OF GOD is one of the most accomplished and enjoyable albums that I've been lucky enough to encounter in recent years." Alvin Gibbs, UK Subs.
---
TRACK LIST:
Guilty Pleasures
Superhuman
Died Pretty
Nothing Left To Talk About
When Good Men Do Nothing
Table For One
Laika
Favourite Funeral Suit
Missing
Won't Go To Heaven
---
T-shirt print:
---
*Postage to UK addresses is included in the price. Orders are usually fulfilled within 2 working days. For non-UK addresses, the additional shipping cost is calculated at the checkout.